Ebooks by D.G. Valdron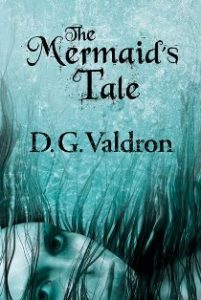 THE MERMAID'S TALE
AUDIOBOOK, Fossil Cove Publishing– ISBN 10 192740097X
To catch a monster, hire a monster. Life is cheap in a primordial city where races from goblins to giants struggle to coexist. But something has crossed the line; a sacred Mermaid has been savagely murdered. The Elders summon an abomination in the eyes of every god, a savage Orc to find the killer. But no one could have guessed where the Orc's search would take her, or how tenaciously she would cling to her mission. As the city spirals relentlessly into a brutal civil war, the Orc prowls the savage landscape from one kingdom and one race to the next, encountering ruthless shamans, evading the machinations of shadowy powers, she discovers something she never imagined… her own humanity.
Reviews
This book is violent and brutal and haunting and beautiful. If I could give this a sixth star I would. – Michael Fletcher, author of Beyond Redemption
I absolutely loved this book; it's already one I know I'll remember for a long time. I would never have thought a book about an orc would be one of the best existential works I've ever read. Kindle Reviewer
This book was wonderful. Seriously… What a beautiful story full of feels, violence and loads of good stuff. This novel definitely exceeded my expectations. – Lady Luna, Goodreads Reviewer
"Where's the line between the animal and the human? What defines us as humans? I felt this book strike the core of this matter. Oh wow, what a read. This book is dark, engaging, a bit annoying, interesting and full of hard life. With a slight touch of light, shining in the horizon, while sitting near the ocean and listening for the Mermaid's Tale…. What a tale." – Orient, Goodreads Reviewer.
Great standalone book. It is certainly grim dark but the blunt humor evens it out. But the ending is triumphantly hopeful – Kindle Reviewer
D.G. Valdron's 'The Mermaid's Tale' was a completely unexpected read. When I began the book, I never thought I'd come to love the lowly Arukh, a kind of female orc. The story had me questioning everything I think I know about life. When I was done the book, I was overwhelmed by emotion. Kindle Reviewer.
"The Mermaid's Tale is a fable of personhood wrapped in a murder mystery framed by a fantasy setting, peopled by familiar races that are presented in subtly original ways." – Melanie, Goodreads Reviewer.
***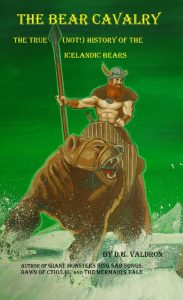 The Bear Cavalry, the True (Not!) History
of the Icelandic Bears,
EBOOK, Fossil Cove Publishing, – ISBN 978-0-9879061-7-5
The most awesome medieval cavalry force ever – Armored knights charging down on their enemies… riding bears! A quirky, unconventional, off the wall, short novel told in the format of a Morgan Spurlock Documentary film, inspired by 'Super Size Me' and 'Where on Earth is Osama Bin Laden.' Written as if you were watching it as a movie, filled with humor and historical asides, Bear Cavalry is an exploration of a piece of history different from our own, it's the story of Vikings encountering bears in the new world, which centuries later results in a devastating armored cavalry, and centuries after that, in a good natured exploration of man and his new best friend. The story is replete with actual history, excursions into biology and economics, dry humor, and strange historical turns, both real and fantastical, of a world that might have been our own.
Reviews
"This quirky story was a delight to read. I had no idea where this story would take me. I'm glad I found out. – Joan Havelange, author of Mable Mysteries, and Wayward Shot.
"Presented through the extremely endearing and funny framework of a faux-documentary, this book is extremely well researched and manages to make something as seemingly absurd as bear cavalry feel as though it's real. You might just find yourself looking up little things to see if they're real, and sometimes they will be," Goodreads Reviewer.
"Just "bearly" believable and yet entirely possible! Have you ever wondered what if? What if history had taken the path leading left instead of right? This is a story about such a possibility. What if … bears! The story itself is told manuscript style, as a documentary film about the Icelandic bears and their historical impact. The roles they played in the lives, cultures, politics, and wars of a number of countries. It recounts both the rise and fall of the bears' popularity and influence. There are explanations of facts, true historical figures, and it is all told with a tongue-in-cheek amusement. – Kat, Kindle Reviewer.
***
STRANGE REALITIES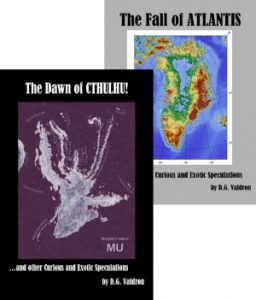 The Dawn of Cthulhu, EBOOK, Fossil Cove Publishing, ISBN 978-0-9879061-5-1
The Fall of Atlantis, EBOOK, Fossil Cove Publishing, ISBN 978-1-7771551-3-1
A pair of speculative fiction eBooks, dissecting fictional landscapes with real world rigorousness, applying physics, biology and anthropology to fantastic subjects..
The Dawn of Cthulhu features The Secret History of H.P. Lovecraft's Cthulhu Cult, and the true historical origins of his alien gods; Lost Continents Found, a tour of lost lands from Atlantis to Lemuria and Mu, and the discovery of real sunken continents;, and finally an evolutionary history of the Muppets, in The Monsters of Sesame Street.
The Fall of Atlantis begins with a realistic Atlantis and its extrapolation as an ecological parable', Retroverse unveils a world where 1950's sci fi movies are real and shows how they fit together; Romans across the Atlantic explores the difficulties of Ancient Ocean crossings, and shows a pathway; and finally we have a history of Greenland without its ice, an altogether different landscape where Vikings and a native civilization confront each other over an inland sea.
Reviews
"I find it to be delightful. Not only is it fascinating to absorb all this information and imagine exotic lost worlds, the author does it with a certain flair that never bores the reader and manages to convince them of the possibilities he's laying – Goodreads Reviewer.
"Once again, D.G. Valdron provides a series of essays written in the style of Jared Diamond after he's had a few drinks that paints an utterly convincing and fascinating view of several potential histories that never were." Flash Man, Goodreads Reviewer
****
LEXX UNAUTHORIZED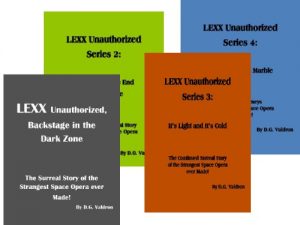 LEXX Unauthorized, Backstage at the Dark Zone, EBOOK, Fossil Cove Publishing, – ISBN 978-0-9879061-4-4
LEXX Unauthorized, Series 2, The Light at the End of the Universe, EBOOK, Fossil Cove Publishing, – ISBN 978-1-7771551-0-0
LEXX Unauthorized, Series 3, It's Light and it's Cold, EBOOK, Fossil Cove Publishing, – ISBN 978-1-7771551-5-5
LEXX Unauthorized, Series 4, Little Blue Marble, EBOOK, Fossil Cove Publishing, – ISBN 978-1-7771551-6-2
The strangest, most surreal space opera ever to hit television. An insane blend of Barbarella, Monty Python, Red Dwarf and Star Wars, this was a show about a ten mile long dragonfly bio-engineered to blow up planets, and its crew – a cowardly security guard and accidental Captain, a runaway love slave with a bit of cluster lizard DNA, a two thousand year old undead assassin, and a sarcastic love struck robot head.
Behind the scenes, it was even more insane. Created by a tiny band of Canadian fringe B-movie film makers reaching for the big time, a story that involved ambition, anarchy, supercomputers, high finance and low politics. The LEXX team set out to break all the rules, careening across everyone from Showtime to the Sci Fi channel, German and British partners, guest stars like Malcolm McDowell and Rutger Hauer, and guerilla film making expeditions to Iceland, Thailand, Namibia, Japan and old Nazi fortresses in Germany.
Reviews
"A Must Have: Very enjoyable and incredibly detailed deep dive through the history of the Lexx television series. I was blown away by how much background information Mr. Valdron complied about the show. It even includes summaries of several "lost" episodes and very different earlier versions of episodes that made it to air, which gave a lot of insight into the creative process of the makers of Lexx." – Kindle Reviewer
"Fun and Interesting: What a fun and interesting look behind the scenes of one of the greatest cult sci-fi series of all time. Well written and very informative, the book explores the nuts and bolts of the making of Lexx, as well as the personalities involved." Kindle reviewer.
"What a Joy: watching Lexx again has been a great balm during this pandemic year, and this book made every episode richer and even more enjoyable. D. G. Valdron, I thank you from the bottom of my heart. I can't wait for there to be more." – Kindle Reviewer
"A Great Read: There isn't much written on Lexx, so to find this Labor of love is a real find. The author has deep insights into the show, both its strengths and weaknesses, and has an enormous range of perspectives and reflections from the cast and crew." – Kindle Reviewer
"Valdron seems to have spoken to everyone who was ever involved with the show, so there's enough detail here to keep the most trivia-hungry fan happy for hours… I've been a Lexx fan for twenty years, but there was stuff in here even I didn't know. I couldn't put it down." -Online Reviewer
***
HEARTS IN DARKNESS

A HORROR TRILOGY
Giant Monsters Sing Sad Songs, EBOOK, Fossil Cove Publishing, – ISBN – 978-0-9879061-9-9
There Are No Doors in Dark Places, EBOOK, Fossil Cove Publishing, and – ISBN – 978-1-7771551-2-4
What Devours Always Hungers, EBOOK, Fossil Cove Publishing, and – ISBN – 978-1-7771551-4-8
Three collections of dark and disturbing horror stories. Fossils: A poet follows a giant monster through the streets of abandoned Tokyo. Flirtin' Out Back With the Sasquatch Kid: A teenage girl encounters the last Bigfoot. Love, Life and the Necronomicon: The true history of the mad Arab and his era is revealed, along with Lovecraft's dark connection. 'Neck Row Man Sea' a desperate single mother learns a disturbing word; 'Voices' a dying man discovers that his cancer can talk to him; 'The Squad,' about the army enlisting a squad of horror movie slashers as unstoppable, uncontrollable soldiers; and many, many more. ''
Reviews
Giant Monsters – An excellent collection of short stories. Be warned there are only two "giant monsters" in this book, but it's not false advertising! Over seven short stories, the author explores the theme of "monstrosity" in the abstract – what are the monsters of our modern literature, and what would the implications be if they existed? Moreover, can we look at things from the monster's perspective, step into his shoes? Online Review
Devours – The worst these stories get are "Fantastic," the best rises to some of the best horror/sci fi I've ever read. A combination of some wholly unique and truly disturbing settings and concepts with artful salvage from well-trod tropes. The stories range from utterly horrifying to hilarious – Reviewer
As always, with this author, the stories are well written and moving. There is a poignant sadness to many of them. Monsters are generally … well, monsters. Here they are seen thru other eyes, though. The emotional impact of the perspectives, motivations, and simple pain is eloquently told in relatable circumstances and characters. Excellent short story collection. Online Review
****
THE GREATEST UNAUTHORIZED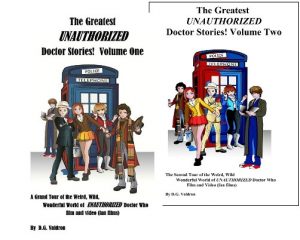 DOCTOR WHO STORIES
The Greatest Unauthorized Doctor Stories, Volume One EBOOK, Fossil Cove Publishing, – ISBN – 978-0-9879061-1-3
The Greatest Unauthorized Doctor Stories, Volume Two; EBOOK, Fossil Cove Publishing, – ISBN – 978-0-9879061-6-8
A two volume set of reviews and essays chart a hidden history, including the adventures of the first Woman Doctor ever, new Doctors, new versions of known Doctors, Female Doctors, Black Doctors, Doctors from around the world, from the 1970's to the present day, the best of which approach the original classic series in entertainment value. Written in a breezy informative style, the book consists of a series of entertaining reviews of the greatest and most important fan films, together with a series of essays that explores the politics behind Doctor Who's crisis and cancellation, the emergence of a fan culture which supported these films, and the evolution of the technology which made them possible. This is a must read for any Doctor Who fan, young or old, interested in the hidden corners and secret spaces of their favorite show.
Reviews
"A Great Read and Excellent Historical Source! I would definitely recommend this book and its sibling to anyone who is not only interested in Doctor Who fan films, but Doctor Who in general. …it is fascinating to read the history of these productions and back story behind them…. Again, a good read and highly recommended!" – Sd_Planner, Kindle Reviewer
"A guide to some of the strangest creations in the Whoniverse I thought I knew Doctor Who pretty well. How wrong I was! …if you are interested in the more obscure and downright odd creations in or orbiting the Whoniverse, then this is a valuable and entertaining guide." – Dragon63, Kindle Reviewer
"I am still gobsmacked that in 1984 we had a female Doctor! For tidbits like that this book is worth it." – Tim Trewartha, Goodreads Reviewer.
*****
FREE STUFF!
Torakar of Mars  an absolutely free online novel, set on the Mars of the pulp era, particularly the works of Edgar Rice Burroughs, and hosted by Erbzine. The story chronicles the adventures of a mysterious but prickly warrior woman, and her quest to save the Princess she loves from a mysterious enemy.
The New Doctor is another free online novel length work, hosted on Wattpad, inspired by a hoax – in 1991, a local actor claimed to be the next Doctor Who, telling an elaborate story about mysterious producers. It likely didn't happen, but it inspired a rollicking, comic, tragic story of a band of producers who were lucky enough to get a television contact, and then discover that they were in over their heads. Described by fans as a work of genius.
Free online Alternate History works include Green Antarctica, the Land of Ice and Mice and A Change of Life.
Again there's plenty of free stuff available on web sites. Fiction and quirky interesting discussions and essays on subjects as diverse as Edgar Rice Burroughs, Godzilla, Starlost, Lovecraft, Pulp Magazines, Fan Films, Kaiju, and Alternate Histories. Feel free to look drop by my web site:
www.denvaldron.com
Thanks for stopping by. I hope to see you again. I'm a pretty compulsive writer, I have more short story collections coming, more novels. Watch for my name.
Don't be a stranger, just be strange.
******
SO, WHAT IS THIS?
Here's the deal – I'm doing self publishing, and mainly I'm just feeling my way through and learning the ropes.  There's a lot to learn about this stuff, and I've got some hope that eventually, I'll reach a point where I can use all this learning to really kick ass with a big project – serious knock em dead stuff.  Right now, I'm trying to save the stuff I think has major potential for trad publishing.
So what have I been doing along the way?  It's not terrible stuff by any means. I'm proud of it. But I don't think it's mainstream, and I don't think it will appeal to Trad Publishers.  Four books about the LEXX, a cult television series that's been off the air for 20 years?  Yeah, Publishers are not lining up for that. But then again, I did an incredible amount of work on LEXX, I wrote what I wanted to write, I'm proud of it, and I want it out in the world. Same thing with the Doctor Who books, I think they're really good, but also really niche.
With my fiction work – well, it's this way. I used to write a lot of short stories. I thought they were pretty good. A lot of them got published in one place or another, now they were just sitting in my hard drive. It's nice to get them out in the world. Some of my fiction like Dawn of Cthuhu or Bear Cavalry is just too quirky for the mainstream.
I'm a good writer, I have that basic skill down. But it's not enough to be a writer these days, the time is gone when you just sent your manuscript off to a publisher and your job was done. You need a whole nest of skills whether you trad publish or self publish. So it's all self teaching, learning the ropes of publishing ebooks, and eventually print books, things like formatting, marketing and promotions, advanced reader copies, seeking reviews.  It's a process. Figure out a bit here, learn a bit there, and keep the day job going, while you're trying to learn.
One day, I realized all my ebooks have a single page where I self effacingly not that I've got a few other books out.
Light bulb moment!  It's an ebook. I don't have to confine all the advertising for all my books to a single page. I can include cover images, advertising copy, I can group them into marketable series, include quotes!
So that's been the project for the spare time in the last month! 
Doing up a catalogue to include with each ebook, formatting it, pulling quotes, reducing covers, and then uploading them thirty times, which was both tedious and encouraging. Going back to my earlier books, I discovered that I'd learned a lot … if only because my early efforts were so much cruder.
I'm sure that the polished and experienced professionals will laugh at my efforts.  But hey, learning the ropes is learning the ropes. Nobody starts out an expert, and if you don't have a mentor to guide your steps, that guarantees a slow process with stumbles along the way.