I first noticed Ron (R.J.) Hore at a small local comic convention held at the Lord Gort Hotel.  This wasn't one of those conventions which goes on forever, with thousands of people, hundreds of dealers, galleries of artists and cosplayers and celebrity guests.  This was just one of those piddly comic conventions, where it's nostly actually comics – local stores, local toys, collectors looking to thin out their collections.
There in the middle of it all was Ron, a friendly, grandfatherly man holding court, at a table with a crystal ball, a saber tooth tiger skull, and a load of books, the Mousetrap Chronicles as I recall.  A local writer. I chatted politely, bought a book, made him sign it and went along with my day.  Hey, local guy, trying to sell his book.  You want to support that.  If we don't support our local writers, who will?
Damn though, if I didn't run across Ron at craft shows, and at Keycon, and the big ComicCon, at gaming cons, anime cons, local shows.  If there was an event selling tables, and sci fi and fantasy had half a chance, there'd be Ron, charming and gentlemanly, taking his ease and selling his books.  And he always seemed to have a new book out.  Ron was practically a fixture at these cons and shows, a welcome presence.  I've pretty much got all his books by now, but he just keeps writing them.
Whether he sold one book or dozens, he's always retained his sunny disposition.  He's a man who enjoys every part of the craft of writing. "I'm retired, so I have to do something," he told me once.  "I told my wife that writing is cheaper than golf."
So here's R.J. Hore, in his own words…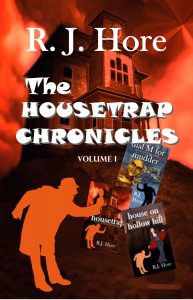 I admit it, I'm a pantser. I write by the seat of my pants with little thought to plotting in advance of writing. It doesn't take much to get me started. "The Dark Lady" came about when I glanced in passing at a TV screen and glimpsed the face of an actress I thought could play a great evil queen. "The Queen's Pawn" grew out of me watching a story about the search for Troy that set me wondering what it would be like to be trapped inside a burning city. The Toltec series grew out of a headline I glanced at on the topic of the treatment of our indigenous population. The Housetraps are a completely different animal.
Writer's block is not a problem for me. I have more ideas than I will ever use. I walk a familiar route in the mornings before breakfast. Because it is quiet, and I can turn my mind loose, I often create dialogue of scenes while on this stroll. I have a separate room where I write (and make a mess) so I don't disturb the rest of the house and the house doesn't bother me, with the frequent exception of the cat, of course. I write because I'm a story-teller and enjoy telling stories. I write to discover how the story will end.
My protagonists may be young ladies, youths, a feuding married couple, or a bickering mother and daughter. For my what-if epic I told the story through three points of view, a young Irishman indentured to a Toltec priest, a Toltec captain in charge of a fort deep in the heart of England, and a Saxon girl fleeing to the continent.
I have my own method of putting words down. I usually write in the mornings, and before I create the new I re-read what I did the day before for continuity. While I edit as I go, and have a beta reader (not a family member!) who critiques everything, the one rule I can pass along is go ahead and finish the darn story and worry about the details and fixing plot holes and punctuation later. I shudder at the tales of budding writers hung up on perfecting the first chapter, and never get past it to finish the project.
I started out with what I call medieval-style fantasy, knights and ladies and wizards and all. These vary from dark tales to much lighter. Alex in Wanderland and We're Not in Kansas are variations, the first gets lost in a world set in an age similar to the tale of Troy, the second is an attempt at an archaeology theme that turned into spec fiction.
I decided for a change of pace I would write a fantasy detective novella so I could allow my imagination to run wild. In order to come up with a plot, I had what I thought was a brilliant idea. I would take the title of an existing mystery, mash it up, and then invent a plot that suits the title. I'd just seen "The Mousetrap" so I thought of "The Housetrap." This got shortened to just plain "Housetrap." I had no idea when I sat down to write what a housetrap might be.
The Housetraps came about as a result of an experiment. I wanted to try something different for a break, wrote "Housetrap," and then tried to sell it. I soon discovered that the novella is a difficult length to sell to a magazine. So, I wrote two more, "Dial M for Mudder," and "House on Hollow Hill," and bundled them together as a novel-length package to sell. (That got me bites from three publishers.)
This exercise in madness has since turned out titles such as "Dial M for Mudder," "House on Hollow Hill," "Hounds of Basalt Ville," and "Murder in the Rouge Mort." So far nine of these things have been published under the moniker, the "Housetrap Chronicles," with the possibility of at least three more before I throw my hands in the air.
I met a publisher at a con in 2011, by then I had some experience with face-to-face pitches. She liked the work I was offering and by the end of that year  I had contracts for two of my novel-length works. "The Dark Lady," a medieval fantasy, and "The Housetrap Chronicles," a collection of three fantasy detective tales, were published in 2012.
"The Queen's Pawn," another (lighter) medieval fantasy was published in 2013 followed by a second collection of Housetrap novellas. It's not that I'm a fast writer, but I did have a pile of work already in progress.
Since then, at the publisher's request, I have turned both "The Dark Lady" and "The Queen's Pawn" into trilogies. That was fun, taking a novel with a sort-of-an ending and extending the story.
These were followed by a stand-alone modern couple in a Dark Age alternate world fantasy, "Alex in Wanderland" and several more Housetrap novellas.
I have one lonely ebook novella that had a rather unusual birth. I had an idea for a short story about a disheartened knight fleeing a lost battle who reluctantly rescues a fleeing woman and her children. When I finished I was not quite satisfied. I wanted to know more. (Why I write!). So I wrote a second short story about a leader of the opposing side who was marching toward the town where the woman was sheltering. I followed this up with a short story about a squire heading to his first battle. The final short story was the woman's tale to wrap it all up novella-length with four different points of view. This came together under the title, "Knight's Bridge" and is available only as an ebook.
Through a second publisher one of my editors directed me to, I had a near-future thriller, "We're Not in Kansas," published and then veered off into an alternate what-if historical fantasy. The publisher liked the manuscript, but thought it too long. She asked me to cut it into two books and write a third. That is how the Toltec Trilogy came about, beginning with book one, "Toltec Dawn," about a Mexican Empire discovering Europe and arriving with the heavy artillery.
Back with my original publisher I decided to try my hand at science fiction. "Of Destiny's Daughters" tells the tale of a large alien spaceship appearing over Ottawa. Half-way through writing this I knew it wasn't going to be a single book. I always wanted to try my hand at a full-blown Space Opera. My publisher agreed, and arriving this year are "Hammer Across the Stars" and "Expeditions to Earth."
Meanwhile, I keep churning out the Housetrap Chronicles. A third collection of three novellas is about to land, and more are in the works. I just can't help myself with those mental relaxation exercises.
All of my novels come out first as ebooks, followed by the trade paperback print edition. The Housetraps arrive as ebooks, and once three are published, they are collected in the trade paperback format.
Oh yes, and don't quit your day job, but there is nothing wrong with looking for a better day job while you write. And be kind to your editors and pay attention so you don't make the same mistakes too often. I find most editors are quite reasonable if you can present a lucid argument about why you don't want to cut a scene, but be prepared to lose gracefully in the end.
Here is where you can find me:
The website:
(under reconstruction)
Author facebook page:
You can find me with author pages on Amazon and Goodreads.
All my Champagne Book Group publications are available through the publisher  http://www.champagne books.com  … as well as Amazon. Kobo/Kindle, Smashwords and the usual outlets. The novels and Housetrap collections are available in both trade paperback print format and ebook, the individual novellas in ebook format only.
All my eTreasures Publishing books are available through the publisher http://www.etreasurespublishing.com … as well as Amazon. They are available in both trade paperback and ebook formats.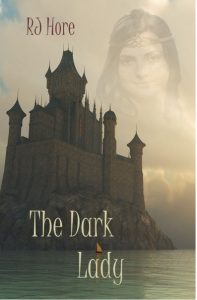 My Books!
The Dark Lady Trilogy:
The Dark Lady    —-    Dark Days    —-    Dark Knights
***
The Queen's Pawn Trilogy:
The Queen's Pawn    —-    The Queen's Man    —-    The Queen's Game
***
Of Destiny's Daughter's Trilogy:
Of Destiny's Daughters    —-    Hammer Across the Stars    —-    Expeditions to Earth
***
The Toltec Trilogy:
Toltec Dawn   —-     Toltec Khan    —-     Toltec Noon
***
Stand Alone Novels
Alex in Wanderland   —-   We're Not in Kansas    —-    Knight's Bridge
***
The Novellas
The Housetrap Chronicles: Volume 1,2,3
and the individual tales: Housetrap, Dial M for Mudder, House on Hollow Hill,
Hounds of Basalt Ville, Murder in the Rouge Mort, The Treasure of the Sarah Madder,
Murder on the Disoriented Express, Menagerie à Trois, Silence of the Sands