Ebooks by D.G. Valdron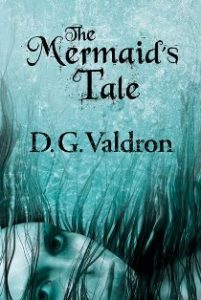 THE MERMAID'S TALE
AUDIOBOOK, Fossil Cove Publishing– ISBN 10 192740097X
To catch a monster, hire a monster. Life is cheap in a primordial city where races from goblins to giants struggle to coexist. But something has crossed the line; a sacred Mermaid has been savagely murdered. The Elders summon an abomination in the eyes of every god, a savage Orc to find the killer. But no one could have guessed where the Orc's search would take her, or how tenaciously she would cling to her mission. As the city spirals relentlessly into a brutal civil war, the Orc prowls the savage landscape from one kingdom and one race to the next, encountering ruthless shamans, evading the machinations of shadowy powers, she discovers something she never imagined… her own humanity.
Reviews
This book is violent and brutal and haunting and beautiful. If I could give this a sixth star I would. – Michael Fletcher, author of Beyond Redemption
I absolutely loved this book; it's already one I know I'll remember for a long time. I would never have thought a book about an orc would be one of the best existential works I've ever read. Kindle Reviewer
This book was wonderful. Seriously… What a beautiful story full of feels, violence and loads of good stuff. This novel definitely exceeded my expectations. – Lady Luna, Goodreads Reviewer
"Where's the line between the animal and the human? What defines us as humans? I felt this book strike the core of this matter. Oh wow, what a read. This book is dark, engaging, a bit annoying, interesting and full of hard life. With a slight touch of light, shining in the horizon, while sitting near the ocean and listening for the Mermaid's Tale…. What a tale." – Orient, Goodreads Reviewer.
Great standalone book. It is certainly grim dark but the blunt humor evens it out. But the ending is triumphantly hopeful – Kindle Reviewer
D.G. Valdron's 'The Mermaid's Tale' was a completely unexpected read. When I began the book, I never thought I'd come to love the lowly Arukh, a kind of female orc. The story had me questioning everything I think I know about life. When I was done the book, I was overwhelmed by emotion. Kindle Reviewer.
"The Mermaid's Tale is a fable of personhood wrapped in a murder mystery framed by a fantasy setting, peopled by familiar races that are presented in subtly original ways." – Melanie, Goodreads Reviewer.